Welcome to Bamsebo Camping
Book your camping experience now
Cozy campsite right next to Gudenåen
Bamsebo Camping, located between Silkeborg and Randers, is the perfect campsite for the entire family. The campsite lies right next to Gudenåen, which makes it the obvious choice for family entertainment, canoeing, and recreational fishing.
Gudenåen is officially recognized as one of the top ten best places for salmon fishing in all of Europe, and with a 305 meter river bank Bamsebo Camping provides great conditions for catching salmon, trout, pike, and bass.
Attractions near Bamsebo Camping
Bamsebo Camping offers plenty of activities for an entire vacation. If you, however, are in the mood for some different scenery, the campsite's central location in the valley of Gudenåen between Silkeborg and Randers, gives you an excellent point of departure for road trips and adventures in East Jutland.
The area of East Jutland is a combination of large forests, Gudenåen, coastal shores with great beaches, and exciting cities full of cultural experiences and delicious restaurants. In the middle of it all lies Bamsebo Camping, which means you'll only have to drive a short distance to attractions such as Aqua in Silkeborg, Randers Regnskov, Djurs Sommerland, and the many shopping centers and cultural experiences of Aarhus.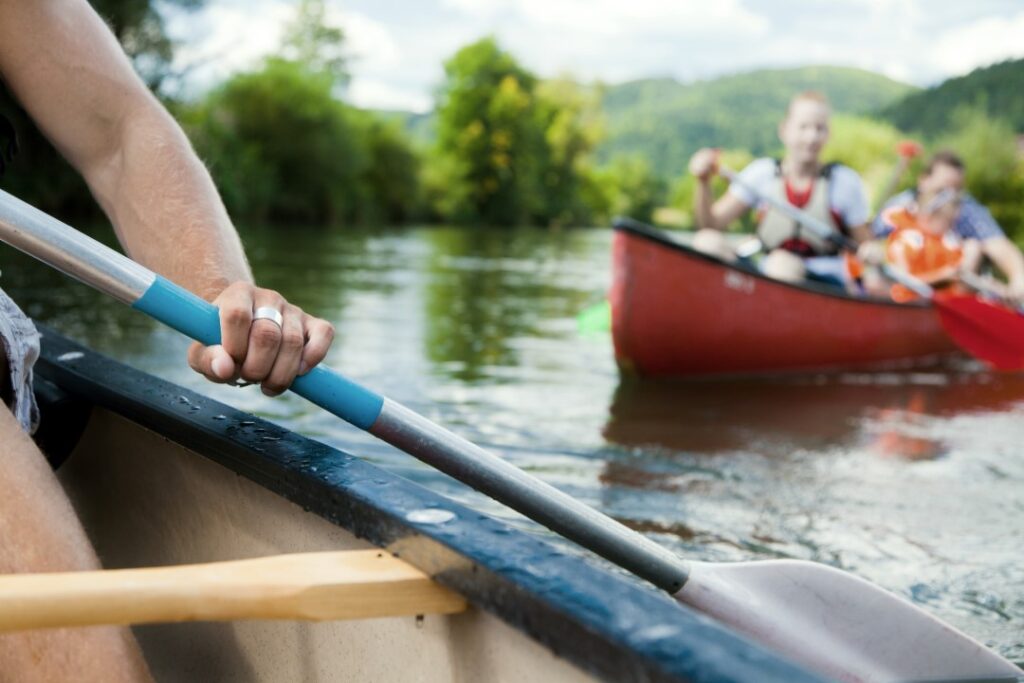 Bamsebo Camping has many years of experience with canoe rental, and is always happy to provide helpful advice and guidance with sailing and sail routes. The canoes on the campsite are all in accordance with legal safety requirements and lifejackets, delivery, and return of the canoe is included in the price.
It is possible to rent the canoes on a daily basis or as a part of a glamping package. The package consists of one canoe, a luxury tent with genuine beds, a fridge, and the best atmosphere you can get.
Book your canoe trip directly here on the website or contact Bamsebo Camping for further inquiries regarding canoe rental.
Book your camping experience now